He Cooks... She Sews!
Felicity was gifted some floral scuba and she has a church event coming up that needs a nice frock.
Both she and I have wanted to make BurdaStyle 05/2011 #108B for a long time.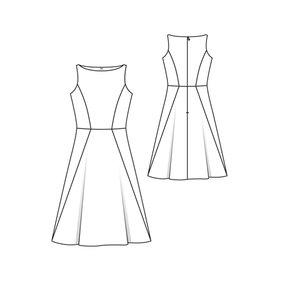 Fabric and an event and a pattern.  Seemed like an excellent coalescing of opportunities and needs.
Or was it?
I traced off a 21 and made a 2.5 cm FBA. The flat pattern measuring and the tissue fitting with the (non stretchy) pattern pieces was a perfect fit in length and width. The scuba bodice was also excellent, on its own, before that heavy skirt was attached.
I forgot that 4 way stretch in fabric with weight and a long full skirt should not be in the same garment. The stretch needed to be corralled into submission with interfacing and interlining and inter everything. I did none of this.
I unpicked, removed length and width and…
View original post 59 more words